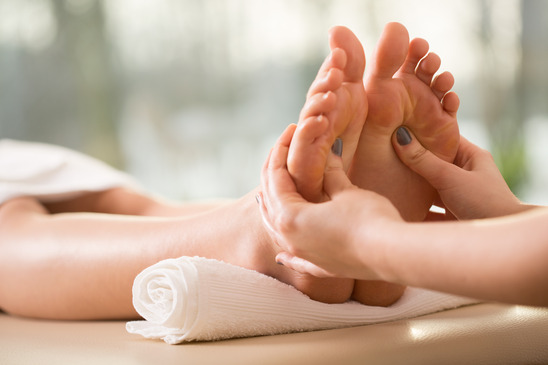 Book An Appointment
Give us a call or fill online form to book an appointment
Reflexology massage is a form of massage which concentrates mainly on the feet. The concept behind the massage is that the feet and hands have 'reflex' regions corresponding to specific glands, organs and parts of the body.
Our reflexology massage therapists at Wellness Clinic Brisbane apply pressure to these points for improved health in the corresponding areas through energetic pathways. The massage spans between 45 to 60 minutes.
You just have to remove your shoes and socks and sit comfortably in a reclining chair. Our reflexology massage therapists then stimulate various foot points to identify the tender and tensed regions. They then use brisk movements to warm the feet and then based on your comfort, apply pressure from the toes to heels.They use lotion or massage oil and gentle gliding strokes over the foot.
Benefits of Reflexology
1

Provide relief from pain and stiffness caused by too much exercising

2

Prevent and cure various symptoms like headaches, stress, infertility, back pain, constipation and arthritis.

3

Provides the stimulation needed to rebalance body functions into homeostasis.

4

Reduced fatigue and improves endurance
If you want to experience the benefits of reflexology massage therapy, just call us for more information and to schedule an appointment.y.